About Us
Gvardia Piggery Complex was built in p. Shturm, Stavropol Krai as part of the national project "The Development of the Agro-Industrial Complex"
Since its inception, the capacity of the Complex has risen from 4,000 to 17,000 sows. The facility meets all the requirements for the highest zoosanitary status, Compartment IV (High Safety Level Farm Facilities).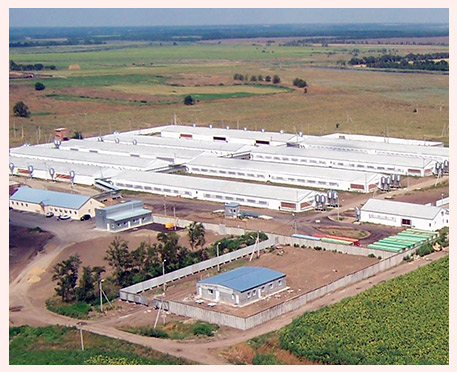 COMPANY
HISTORY TIMELINES
2004
Establishment of Gvardia LLC
The main activity:
pig breeding
2006
Stage 1 of the
Piggery Complex
put into operation
80,000 fattening
pigs per year
2013
Stage 2 of the
Piggery Complex
put into operation
Design capacity: 270,000 fattening pigs
2016
Stage 3 put into operation. Active facilities: 3 sow farms, 3 feeding houses, 1 boar house
Capacity increase up to 430,000 fattening pigs
Pig Production
Gvardia LLC has been an active member of the National Union of Swine Breeders of Russia since 2009.
Pig Farmers
We are a company with a friendly professional team focusing on commitment to our work.
We constantly set the stage for professional growth of our specialists.
We have established a powerful control system which helps us better monitor and improve our performance on a daily basis.

Technologies
With constantly applying cutting-edge technologies, we have managed to have a sustained high number of pigs per farrow and desirable average daily gain. This helped us get to 115 kg of average slaughter weight much faster than expected.
We strive to maintain healthy animals, that is why our facilities have stringent veterinary attendance and biosafety at the constant high level.

Genetics
Our joint program with the leading global swine genetics supplier, PIC, allowed us to achieve and handle key performance numbers for the breed across the whole production cycle:
Increased lean meat yield
Optimal slaughter weight
Excellent feed-conversion rates
Great carcass yield numbers
Our approach helps get the best profitability possible and highest quality of our products.

Feed
In 2007, we put into operation the feed mill as part of the Krasnogvardeiskiy Elevator. The mill is equipped with modern machinery from Buhler AG, YHT Ltd etc.
Automated operation control at the facility helps us maintain the recipes for the fattening. Our piggery complex has one of the highest feed-conversion rates per herd in Russia.